Mural Monday - Kate Pullen
Kate Pullen is an emerging illustrator and letterer from Melbourne who can't drink caffeine, making her choice of profession and home city, as she says, "Seriously questionable." She also has a thing for country music and has recently brought on an intern - her English staffy, Vince. Kate is also one quarter of the girl group, The Letterettes, who create everything from murals, to lettering for ad campaigns, to on-the-spot gift cards, all while wearing matching jackets.
For Kate, lettering and illustration provide an outlet for the almost-daily existential crisis, "Helloooo millennials," continually swinging between "You can do it! Aim high! You're wasting precious time!" and "Put yo' feet up, you deserve a break, have a Kit Kat."
The Mural
This mural was a personal project that Kate had been intending to tackle for nearly a year. As a lettering artist with an itch to paint more murals, she finds it a bit challenging to seek out people who are willing to lend her their walls. Which is why this mural can be found in her garage. "I'm very lucky and grateful that I was able to jazz up my own space." Kate says.
Who was the mural for? What was the inspiration?
All for me! Haha. This was purely a personal project that I had been intending to tackle for probably about a year. I just wanted to be able to paint another wall! Although...really, that's not wholly true. Yes I did want to paint, but this quote is also something spesh. The words are from one of my favorite movies - and greatest Aussie flicks - Strictly Ballroom. Not only that, but I battle anxiety and this quote continually pops into my head when things are rough. To be scared all the time (at least it feels that way at points), to have your decisions driven and shaped by fear...it's relentless, and exhausting, and pretty damn depressing at times. You can't be too hard on yourself - the anxiety is not you, just something sh*tty you have to deal with - but I also try and remind myself of the kind of life I want, one without fear, and that keeps pushing me forward.
How big is this mural?
Good question (I'm terrible at any kind of exact measurements). It's approximately 18 square meters.
How long did the mural take? How long was the prep time?
If you include when I had the idea to when I put the final paintbrush down, probably close to 18 months. I had a list of ideas that simmered in the background between jobs, that gradually grew to sketches, then eventually ended up on my iPad- to test colors and composition.
When it came to painting the actual mural, I waited until I had summer holidays and was able to paint at my leisure. It was actually such a joy being able to go downstairs and tackle a new part of the mural, with The Nanny bubbling along behind me. In the end, I probably painted over five days, taking my time.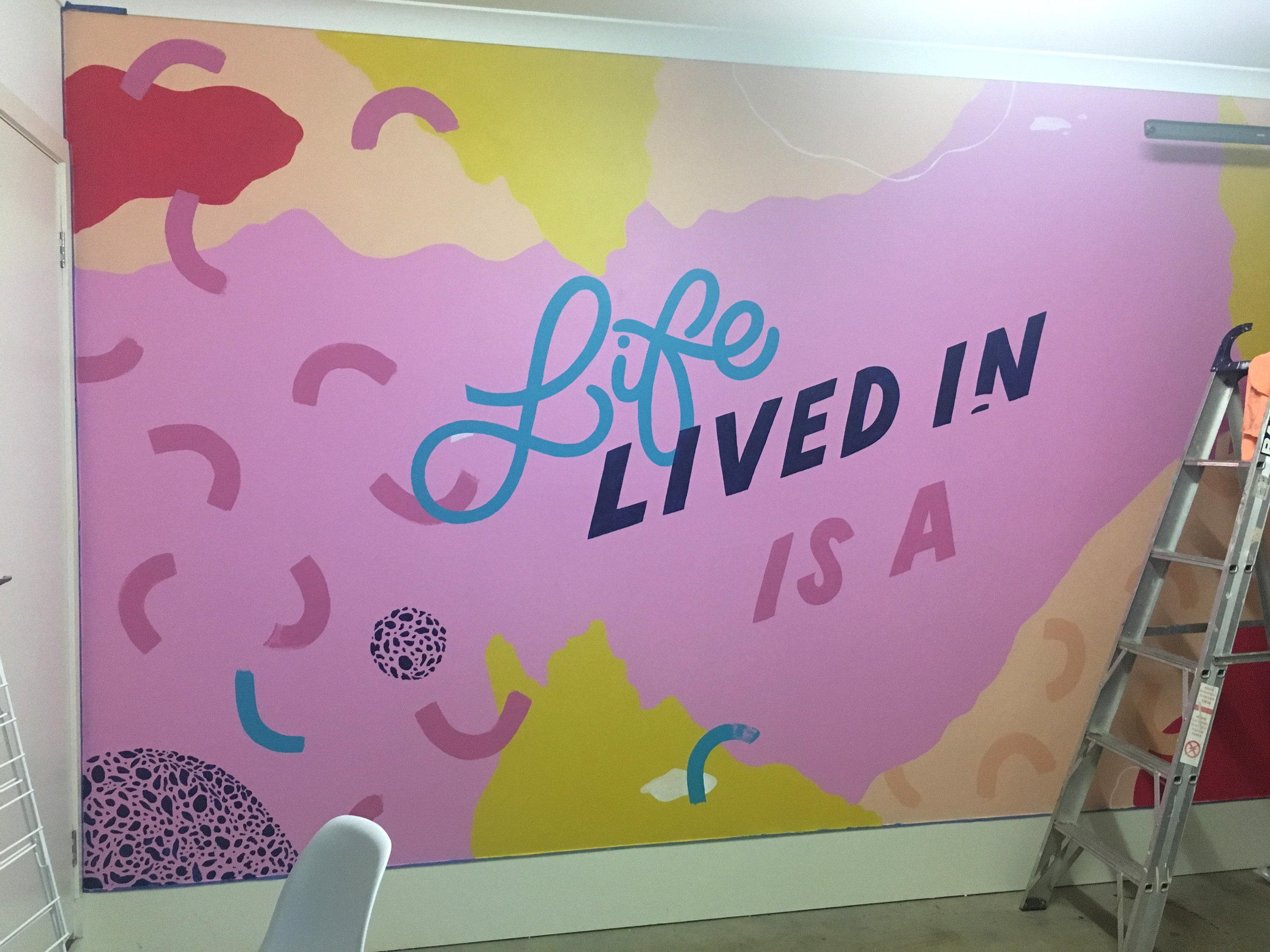 What are your tools of the trade?
Nothing fancy! Pencil and paper for sketches, iPad Pro and Procreate for color tests, and interior house paints from Bunnings (Aussie hardware store)!
Did anyone assist? If so, how many and who?
I don't know if I can count. 1. Netflix, and 2. My dog.
What was the most challenging component?
Being my own client - gosh I am the worst! "Indecisive much, Miss Kate?! Make a decision already!" And having to freestyle the background of the mural (with no guides), a new challenge for me. I often use a projector to project my design up on to the wall, penciling in the outline. However, because of the lack of depth in my garage (you need to be far enough back), I had to improvise this time! There was a lot of guesstimating!
How long have you been painting murals? How did you get into it?
I painted my first mural in 2015, and was lucky enough to be granted this opportunity via the Melbourne Lettering Club. I loved it! Even if I did spend the first two hours painting one 'E'. I enjoy the challenge of large scale, I love working with color- even though I find it super difficult. And I really like the often-temporary nature of mural work; sometimes they're just a wonderful snapshot in time and then they disappear.
Take us behind the scenes of your process.
I keep a spreadsheet of potential ideas I want to explore, and look forward to chipping away at these in my downtime. I always start with a pencil and paper. Although, I have to admit this has moved on to the iPad Pro, more and more, lately. I used to vector everything but these days, if I don't need to, why waste valuable time! You can just as easily test colors in Photoshop, and with a hi-res scanner you don't have to worry about losing quality.
Where do you find your inspiration?
I definitely don't always feel inspired. Some days are really hard and the last thing I want to do is pick up a pencil; at times that blank page is just so bloody daunting. However, when I'm feeling good (and I think half the battle is working out when you need to take a step back, and when you need to push on through) I really do love popping in my headphones, listening to music/TV/audiobooks/podcasts, and losing a few hours in that kind of drawing daze. How nice!